Gold from MIPIM Awards Has Come to Czechia for the First Time in History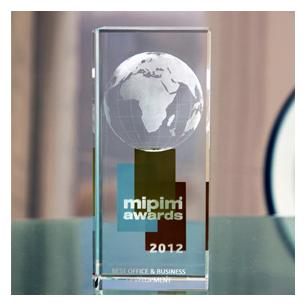 For the first time in history, a Czech project has won the prestigious MIPIM Awards contest for developers and architects in the most prestigious category of office buildings. This international contest takes place in Cannes, France, every year as part of the MIPIM fair – the largest real estate and investment opportunity fair in Europe. The environment-friendly and modern office building Main Point Karlin won the first position among more than a hundred projects from 47 countries around the world and has thus become the last year's best administrative building.
"The award is a great motivation for us and a confirmation that projects that belong to the world's absolute top with their quality can be implemented even in our country," said Martin Jaroš, the managing director and the chairman of the board of directors of PSJ INVEST, a developer company.
Last year, Main Point Karlin has already received the highest award in the prestigious European International Property Awards reality estate contest, organised in cooperation with Google, The New York Times and Bloomberg Television.
Main Point Karlin is a sustainable and, at the same time, highly technologically sophisticated office building with a lettable area of 22,000 square metres, characterised by distinctive architecture and high technological standards. The interesting architectonic features include pronounced facade pillars, which works as sunshades, or a system cooling the building with river water. Great emphasis has also been placed on the quality of the indoor environment. A modern system of induction units, which do not emit any noise, provides comfortable ventilation.  Thanks to floor-to-ceiling French windows, the building offers very well illuminated offices.
PSJ INVEST has many-year experience with sustainable development. Its first project in the field of sustainable buildings was the environment-friendly Czech House in Malmö, Sweden.
Look at the presentation video of the project:
PSJ INVEST, a.s. profile
The Main Point Karlin project's developer is PSJ INVEST, a.s. present on the Czech market for sixteen years. We have brought to life a number of successful developments. Our portfolio contains over 181,000 square meters of office and shopping centres, commercial centres and industrial parks or houses and residential complexes. The following projects may be rated as the most successful ones: City Park Jihlava shopping and entertainment centre: www.cityparkjihlava.cz / the prestigious office complex BB Centrum in Prague 4 Michle / the Dvorana office centre in Prague / Majdalenky residential complex in Brno / Zelena louka housing complex in Brno / Pavlovova Houses in Jihlava / BMT warehouses and production complex in Brno.
Further Information
PSJ INVEST, a.s.
Ing. Jakub Jirka, MSc
(+420) 241 481 145
jakub.jirka@psjinvest.cz
return to homepage
more about psj invest